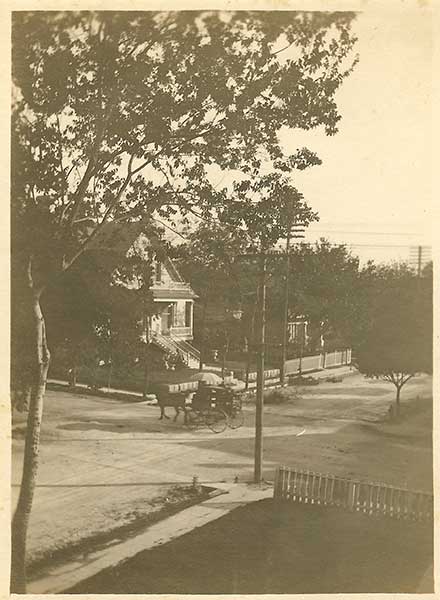 Our San Antonio bed & breakfasts are located near all of the major historical sites in San Antonio. Our three bed and breakfasts in San Antonio have a rich history and we hope to share it with you in person soon. For now, read below about our wonderful, historic inns.
San Antonio is Texas' most historic city, and one of our central goals in creating Noble Inns was to offer guests a way to experience this history personally. Further, because both of our families have lived in San Antonio for many generations, our family histories and that of the city are intertwined, and the creation of Noble Inns has been a reflection of that heritage. Thus, we are also inviting our guests to experience a history that is very personal and important to us.
Early San Antonio San Antonio was founded by the Spanish in 1718 as part of the extension of its empire in the New World. Early on, that settlement consisted of a military garrison and Catholic missionaries who founded and operated the missions (thus giving us the 5 Spanish colonial missions that still exist as major tourist sites, the Alamo being the most famous). The first civilian settlers were sent by the King of Spain from the Canary Islands, arriving in 1731. In 1821, Mexico won its independence from Spain, and Texas became a province of Mexico.
Don Noble's maternal great-great-great grandparents, Samuel and Mary Maverick, were the first American couple to settle in San Antonio. Sam arrived in 1835 from South Carolina. A graduate of Yale and a lawyer, he was actively involved in major events in Texas for the remainder of his life. In 1836, the defenders at the Alamo sent him as their representative to sign the Texas Declaration of Independence from Mexico, thus sparing him from the massacre that was the fate of the remainder of the garrison. Sam served in numerous capacities during the Republic of Texas, and worked with his friend and ally Sam Houston to gain Texas' admission to the United States in 1845. He built his home on Alamo Plaza, so that he could keep watch over the place where his friends had died. Mary Maverick's memoirs are now considered a classic work about life in early Texas. Curiously, perhaps Sam Maverick's most enduring notoriety was not intentional; his name has become a word in the English language as a result of a ranch he owned where the calves were not branded. A "maverick", which originally meant an unbranded calf, now also means an independent person or dissenter. The Maverick family has continued to contribute to numerous areas in the life of San Antonio. Don's great-uncle, Maury Maverick, who served as congressman and Mayor of San Antonio in the 1930's, is credited with securing the funds to create the Riverwalk and with preserving La Villita (the "little village", part of the original Spanish village).
The King William Area and Our Families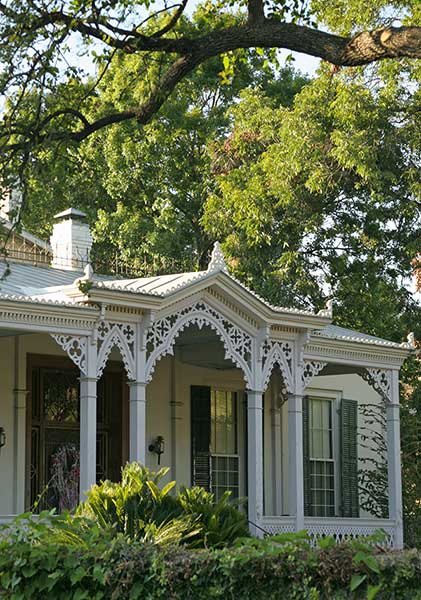 King William was San Antonio's first planned subdivision.  Development was begun in the 1850's on land that was originally farmland owned by the Mission San Antonio de Valero (the Alamo). Ultimately, it became one of the finest neighborhoods, where prominent citizens built their mansions to announce their success. The majority of these original families were German immigrants, and thus the street and later the area was named for Kaiser Wilhelm I of Prussia. In 1968 the King William Historic District was created as the first historic district in Texas.
The Oge House was the first significant home built in the area. It was built in 1857 by Newton Mitchell, whose wife Catherine Elder's family were the original developers of the area. It is a rare survivor in Texas of pre-civil war residential architecture of this magnitude, and exudes the dignity and grace of an antebellum plantation home. The house was purchase in 1881 by Louis Oge, who had emigrated from the Alsace region of France in 1845 and made a fortune in the land and cattle businesses. He employed renowned architect Alfred Giles to enlarge the house by adding the third story, retaining the Greek Revival style. The Oge family resided there for more than 60 years, thus accounting for the house's name.
Liesl's maternal great-great-great grandfather, Carl Hilmer Guenther, emigrated from Germany in 1851, settling first in Fredericksburg in the Texas Hill Country. In 1859 he moved to San Antonio, purchasing property at what is now the southern end of King William Street and erecting a grain mill on the San Antonio River, as well as a home on the same site. This home, enlarged over the years, has been restored and is now open to the public as the Guenther House Restaurant, as well as housing a mill store, restored rooms, and other exhibits. The C.H. Guenther/Pioneer Flour Mill business has continued to occupy this site, and has grown and prospered over the successive decades, so that it is now the oldest and largest privately owned milling business in the United States. Guenther children and other family descendants built several other homes in King William, primarily on Guenther Street near the mill.
Don's paternal great-great grandfather, Aaron Pancoast Sr., purchased the property at the corner of King William and Turner streets in 1863. His son, Aaron Pancoast Jr. built his home next door in 1896, which is now Don and Liesl's residence. The adjoining carriage house has been converted into 3 guest rooms as part of our Noble Inns properties.
Liesl's paternal great-grandparents Dr. Alfred and Virgilia Macdaniel built the imposing home at 117 Madison Street in 1896. It stands next door to the Jackson House at 107 Madison Street, which is the third of Noble Inns' properties, built in 1894. The carriage house for the Macdaniel house later was separated from the main house and converted into a home, numbered 130 King William. Liesl's grandparents, Gibbs and Virginia Macdaniel lived there from 1932 to 1949, at which time it was sold. It now houses the San Antonio Art League offices and museum.
All told, over the years our families built or owned more than 20 homes in King William. Our resulting fascination with and commitment to the restoration and preservation of the neighborhood also has led to our desire to share this enriching experience with visitors to San Antonio. We hope that this experience will be a personal and intimate enjoyment of not only these historic structures and their wonderful architecture, but extend to the antique furnishings and other beautiful features of the interiors and grounds. And even though we wish our visitors to feel as if they are honored guests in a lovely private home, our San Antonio, TX bed and breakfasts are also designed to treat them to the modern conveniences, amenities and services that discriminating travelers desire. We invite you to experience personally the special history and culture of San Antonio that we have come to know and love.
We hope you enjoy your stay!
– Don and Liesl Noble