Celebrate your love with an intimate wedding celebration at our beautiful antebellum mansion overlooking the famous San Antonio Riverwalk. Our stunning San Antonio bed and breakfast is the perfect backdrop, offering 1.5 acres of gardens, verandas, and romantic suites. Book our San Antonio elopement package and our caring staff will handle all the details so you can relax and enjoy your special day. Then let your Texas honeymoon begin!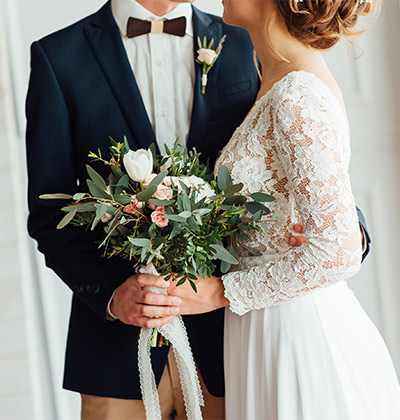 Intimate Elopement Package – $699
Choice of location at the Oge House for ceremony
Outdoors: The ideal spot is our beautiful gazebo overlooking the Riverwalk.  One of the spacious verandas or other preferred location in our gardens may also be chosen.
Indoors: Our elegant dining room with fireplace for your exclusive use.  This location will be used in case of inclement weather.
Package Includes:
Licensed Officiant (several to choose from, including male or female)
Bouquet and Boutonniere created by our professional florist
Petite Wedding Cake custom made by our professional baker
Bottle of Sparkling Wine or Sparkling Cider
Concierge planning of honeymoon activities
Lodging is not included in package price, 2-night minimum stay required. See additional information below.
We would love to talk to you about your upcoming wedding! Email us with your dates, number of guests, and any special notes to get things started. We will also be happy to give you referrals for local photographers and spas for hair and makeup.
Additional Information & Requirements
Additional Guests: You are welcome to have up to 20 guests at your wedding ceremony for an additional $50 per person. This fee is waived for guests who book a room at Noble Inns to attend your ceremony (maximum of 2 per room & must be booked directly with Noble Inns).
Minimum Night Stay: The wedding couple must book 2 or more nights with Noble Inns. We recommend the Oge House as the most romantic of our three bed and breakfast properties as well as the most convenient since it is the location of your ceremony. Lodging is not included in the price of the elopement package.
Deposits and Payments: We require a 50% deposit on the elopement package with the full reservation balance due 30 days before your wedding day. All payments are non-refundable. If you book within 30 days the entire amount will be due at booking. You may choose to book your room at our Standard Rate or save money with our Advance Purchase Rate.