Exquisite antebellum mansion set on the San Antonio Riverwalk. A romantic setting with expansive verandas, gazebo and lush gardens.

Secluded getaway near the Riverwalk offering access to a full kitchen, outdoor pool and heated spa. Great for families and small groups.

Exceptional lodging value near the Riverwalk featuring an indoor spa pool, beautiful marble baths and fireplaces in every room.
COVID UPDATE: Noble Inns is open !  As an essential business, we have never closed and have no plans to close, so we are available for bookings on any date.  Moreover, our pool and heated spa at the carriage house are open and available for use by all guests.  Applicable social distancing and mask-wearing requirements are being observed.
For guests who desire a separate, private space with no need to enter any shared interior space, we have numerous options:
The Oge House has a king room (Alhambra) and 2 king suites (Blenheim and Castle Howard) that have their own private entrance directly onto the lower veranda (each of these has max occupancy of 3).
Carriage House Suite 1 (full apartment w/ King bedroom and private bath, kitchen, living, dining area (max occupancy 4). Private entrance.
Carriage House 2&3 – upstairs (full apartment w/ 2 Queen bedrooms, 2 baths, kitchen, living, dining area (max occupancy 6). Private entrance.
Whole house booking of the Jackson House – 6 bedrooms, 6 baths (max occupancy 12). BOOK ONLINE from this site !  Just click our "Check Availability" box above and input your dates.  Minimum 2-night stay.  Property is shown as "Jackson House Whole House".
Whole house booking of the Oge House – There are 2 options: Book the main and 3rd floors at a lower rate (7 bedrooms, 7 baths, maximum 14 guests ) or all 3 floors at a higher rate (10 bedrooms, 10 baths,12 separate sleeping rooms, maximum 23 guests).  Both options include use of the full kitchen on the main floor.  Call for pricing and availability.
The swimming pool and heated spa at the Carriage House is open and available for use by all guests at the Oge House and Carriage House.  The heated spa-pool at the Jackson House is open and available for Jackson House guests only.
In addition to our normal high level of housekeeping, we are carefully sanitizing all guestrooms prior to check in to ensure that they are safe for guests.
Perfect for Romantic Getaways in San Antonio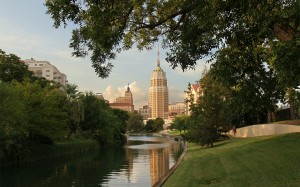 We offer three stunning bed and breakfasts in San Antonio in the downtown King William Historic District near or on the famous Riverwalk. Stroll past the historic restored mansions on your way to many of the best San Antonio restaurants, shops or galleries. Guests can also enjoy a short walk to the Alamo and the Convention Center from our properties. At our San Antonio, TX bed and breakfasts, guests will enjoy elegance, luxury and unmatched Southern Texas hospitality.
Each property has a unique charm and guests can escape and indulge in our private and serene rooms. Each room has been individually crafted with handpicked antique furnishings, original artwork and luxurious fabrics and wallpapers. Join us for the ultimate romantic getaways in San Antonio.
Breakfast – Noble Inns offers a Continental breakfast option that may be added to your room:
Individual "in-room" continental breakfast – $8.99 each
Continental "in-room" breakfast is individually packaged and will be delivered to the room/house where you are staying in advance, so it is ready for you to enjoy whenever you wish on your chosen day. Those attending conventions or business meetings, departing early or sleeping late may prefer this option. It consists of a pastry, fresh fruit, yogurt, fruit juice, and coffee/tea. Guests may enjoy having their breakfast in the privacy of their room, or choose to have it on one of our many porches or garden patios. Continental breakfast can also be brown-bagged "to-go" style on guest request at least 1 day in advance.
Full breakfast – we are surrounded by dozens of fine restaurants.  Many were badly damaged (or permanently closed) during the Pandemic.  We are supporting our area restaurants by providing our guests with a list where they may obtain a delicious full breakfast.
Noble Inns of San Antonio Texas strives to provide an experience that is unique, special, finer … a feast for the senses. For that reason, joining us in our hotel near the Riverwalk in San Antonio guarantees that guests will go beyond the ordinary… to the extraordinary.